Dane G. Hansen Foundation Grant Facilitates Major Operating Room Technology Upgrade
Based in Logan, Kansas, the Dane G. Hansen Foundation awarded a 500,000 grant this fall that allowed HaysMed to acquire the da Vinci® Xi robotic surgery platform. This highly sophisticated surgical equipment represents a two-generation leap in technology from HaysMed's previous platform. Each new generation of the "robot" provides our doctors more precision, flexibility, and control than the previous version.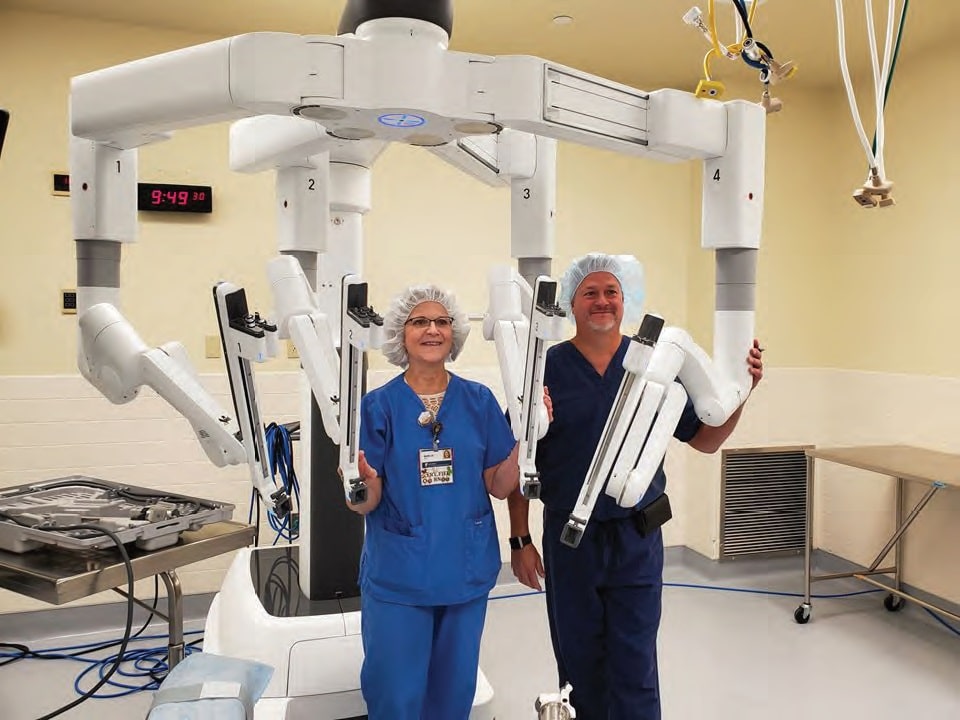 The robotic surgery equipment consists of mechanical arms with tiny instruments and cameras attached. The surgeon sees an extremely high-definition, greatly enlarged 3-D view of the surgical site and manipulates the arms by way of a computer console near the operating room table.
"The cost for the robot and the associated equipment was out of reach without the generous vision of the Dane G. Hansen Foundation. We are grateful to the Hansen Foundation for making this technology available for everyone in HaysMed's growing rural service area," said HaysMed Foundation Executive Director Jeff Brull.
This new equipment brings multiple benefits: increasing the number and types of surgeries that can be performed, reducing the length of hospital stays, smaller incisions means minimal scarring, and reduced use of pain medications. Patients enjoy a faster return to their homes, their jobs, and to their normal routines, all with fewer risks of complications.
"We live in a region where hard work is practiced and valued. Many patients cannot afford to be away from work for extended periods. We strive to address the real-life issues that face residents of western Kansas."

HaysMed President and CEO Eddie Herrman
"The support of the Dane G. Hansen Foundation, along with that of the HaysMed Foundation's many donors, will allow countless patients to reap the benefits of this technology," said Brull. Presently, HaysMed has nine surgeons trained in robotic surgery. General surgeons include Dr. Charles Schultz, Dr. Paul Teget, Dr. Zurab Tsereteli and Dr. Jerod Grove. Surgeons who specialize in urology are Dr. Ernesto Lopez-Corona and Dr. Srinivas Samavedi. Obstetric and gynecologic surgeons are Dr. Lee Hodny, Dr. Timothy Hoskins, and Dr. Joel Fort. Fort is also the head of the HaysMed Robotics Committee.