HaysMed Foundation turned 25!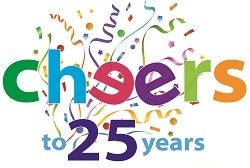 That's right. Articles of Incorporation were signed on December 19, 1995 to form The Hays Medical Center Foundation.
It is through the help and partnerships of families, community members, businesses and foundations that the Foundation has been able to help HaysMed expand services, develop new programs, fund equipment purchases, and provide community wellness activities.
Thank you to every supporter - each dollar raised and idea shared has been part of designing care specifically for the people of Kansas.  We are so excited to celebrate this milestone with you! "Celebrating 25 Years" of support and giving provides us the opportunity to remember, to express gratitude, and to celebrate successes.
What better time to thank the talented and insightful Board members and the incredible Board Chairs who have shared our successes and challenges with invaluable guidance. We also salute the founders of the HaysMed Foundation who made so many wise decisions and created a solid foundation for success. We are immeasurably grateful for the talented and dedicated staff of our foundation who always keep things moving in positive directions, and finally, we would be remiss to not highlight the three incredible people who have taken on the challenge to lead the Foundation by stewarding the resources to help assure exceptional healthcare.
Bob Lowen (1999-2007) | Ruth Heffel (2007 – 2018) | Jeff Brull (2018 – Present)
Celebrating 25 Years of giving is a major milestone and would not have been possible without the tireless effort of so many in our regions. Over the past 25 years, supporters of the HaysMed Foundation have helped set a standard for excellence that has guided HaysMed to be what it is today.
Thank you for supporting exceptional healthcare for our region. Here's to the next 25 years!