This year the HaysMed Foundation turns 25!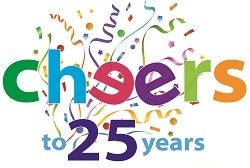 That's right. Articles of Incorporation were signed on December 19, 1995 to form The Hays Medical Center Foundation.
It is through the help and partnerships of families, community members, businesses and foundations that the Foundation has been able to help HaysMed expand services, develop new programs, fund equipment purchases, and provide community wellness activities.
Thank you to every supporter - each dollar raised and idea shared has been part of designing care specifically for the people of Kansas.  We are so excited to celebrate this milestone with you! "Celebrating 25 Years" of support and giving provides us the opportunity to remember, to express gratitude, and to celebrate successes.
Four years after the merger of the St. Anthony Hospital and Hadley Regional Medical Center form Hays Medical Center (HaysMed), the Hays Medical Center Foundation (HaysMed Foundation) is incorporated to help support HaysMed
Services expand with heart catheterization procedures and open heart surgeries taking place for the first time in the region
State of the art equipment like digital x-ray equipment, Magnetic Resonance Imaging (MRI), and a Linear Accelerator are added
Gifts from grateful patients and families are used to make waiting and patient rooms more comfortable.
Paul and Virginia Miller left a $5.1 millon estate gift to Hays Medical Center
In addition to services and equipment designed for treating illness, the HaysMed Foundation supports major activities designed to help reduce healthcare cost by keeping people healthy
The annual Free Drive Thru Flu Vaccination and CPR Anytime Community events take place for the first time.
The Center for Health Improvement opens
State of the art equipment like the IMRT, new CT scanner and PET scanner are added
Major hospital renovation is completed, and dedication of the Bickle Pavilion housing the DeBakey Heart Institute honors Don and Cecilia Bickle
A Donor Recognition Wall is constructed to recognize 138 donors who have given more than $2,500 to support healthcare at HaysMed. Over 40% of those recognized are Associates at HaysMed who see their donations serving their patients
Gifts – small and large – continue to impact the level of care available at HaysMed and throughout the region
A new mobile mammography unit is purchased to serve the region
An IGRT is funded for treatment of patients with cancer
A new van helps transport patients without other means to get to treatments
Renovation of the Pediatric Unit is completed
The Hospitalist Program begins
HaysMed becomes a Smoke Free Campus, a member of the Midwest Cancer Alliance Clinical Trials Network, and launches the Nurse Residency Program thanks to a gift from Lillian Schumacher
A new Leaves of Life wall is installed with the support of memorial gifts for Lanita Smith
The My Pink Scarf program begins
Cinema Vision equipment is purchase to entertain and relax patients during imaging procedures
The Bickle/Eagle Health Complex housing the Center for Health Improvement, Orthopedic Clinic, Outpatient Rehabilitation, Surgery and other services are named in honor of Don and Cecilia Bickle and Bob and Pat Schmidt
HaysMed is named in Top 100 Places to Work in Healthcare
The new HaysMed logo with a green circle around the original H is unveiled
The H1N1, "Swine Flu" pandemic emerges
A major building and renovation project expands the Dreiling/Schmidt Cancer Institute (DSCI)
The Obstetrics Unit relocates the Breast Care Center to the main campus
The new Medical Office Tower is named for the Don and Chris Bickle Family
Patient rooms receive and upgrade
The Dr. Vic Eddy Outpatient Surgical Unit is named in honor of the legendary longtime surgeon
The Wind Sculpture Garden is dedicated to the memory of Leo and Albina Dreiling
Equipment including a new Linear Accelerator (SBRT) , oximeters for the respiratory department, a LiftMate for Imaging, iPads for Orthopedic patient education, simulation mannequins for professional education, and mobile device charging stations for waiting rooms are acquired with the help from generous donors to the HaysMed Foundation.
HaysMed received Level 3 Trauma Center designation, national accreditation as a Chest Pain Center, certified as a Primary Stroke Center, Saving Sight's Excellence in Eye Donation award and becomes a Health Kansas Hospital. In addition, HaysMed assumes operations of Pawnee Valley Community Hospital and HaysMed & Centura Health establish St. Rose Health Center. Convenient Care Walk-In Clinic opens and HaysFamily Medicine is expanded.
Dreams, vision and hard work continue to transform HaysMed to serve the healthcare needs of the region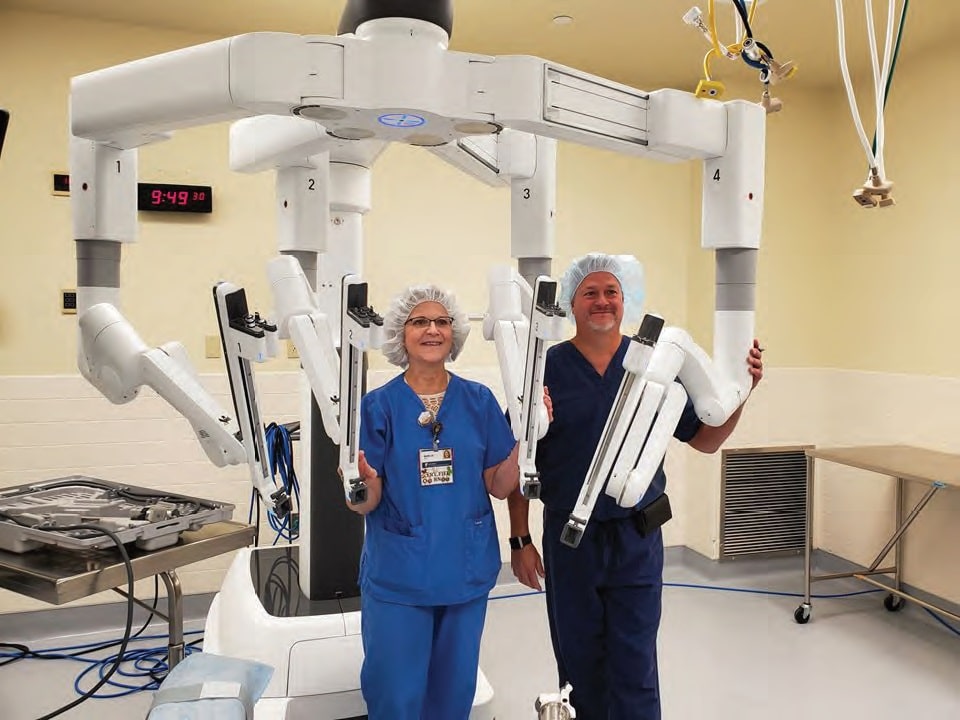 HaysMed officially affiliates with The University of Kansas Health System
Cutting edge technology is an essential investment because it allows patients to be diagnosed and treated more accurately, less invasively and return to the things they love faster. Gifts to the Foundation helped HaysMed to attain:

More than 1,500 Robotic Surgery procedures
A large bore CT scanner with advanced diagnostic imaging for planning patients' radition therapies
A CT Scanner with a specialized cardiac module
3D Mammography Tomosynthesis
Cath Lab upgrades

Continuing education for staff is essential to providing the best care for our region. Endowed funds and current donors provide:

Upgrades to the Hadley Rooms that serve as a hub for education underwritten entirely by the Hadley Foundation
A HaysMed/FHSU partnership to build and house a state of the art simulation lab in Stroup Hall on the FHSU campus funded by the HaysMed Foundation, the Dane G. Hansen Foundation, and FHSU
Concussion screening for area high school athletes
Clinical training for Sexual Assault Nurse Examiners
A breast milk outreach center
Matthews Gift providing essentials for parents who must transfer with their child in an emergent situation
These are a few ways that HaysMed Associates continue to reach out and partner to serve the needs of the region. 
What better time to thank the talented and insightful Board members and the incredible Board Chairs who have shared our successes and challenges with invaluable guidance. We also salute the founders of the HaysMed Foundation who made so many wise decisions and created a solid foundation for success. We are immeasurably grateful for the talented and dedicated staff of our foundation who always keep things moving in positive directions, and finally, we would be remiss to not highlight the three incredible people who have taken on the challenge to lead the Foundation by stewarding the resources to help assure exceptional healthcare.
Bob Lowen (1999-2007) | Ruth Heffel (2007 – 2018) | Jeff Brull (2018 – Present)
Celebrating 25 Years of giving is a major milestone and would not have been possible without the tireless effort of so many in our regions. Over the past 25 years, supporters of the HaysMed Foundation have helped set a standard for excellence that has guided HaysMed to be what it is today.
Thank you for supporting exceptional healthcare for our region. Here's to the next 25 years!