When HaysMed became the first hospital to join The University of Kansas Health System in 2017, we could only have imagined the good things that would become available to western Kansans. Although there are many components that make up the tremendous benefit to our region, it really comes down to one major concept: the best people, facilities, and equipment available without sacrificing the level of care you'd expect from your neighbors and friends.
Our goal is the same across the state: to meet patients where they are and provide the best care available. For our western Kansas neighbors, it means the best people from HaysMed providing outreach services throughout the region. It means partnering with physicians in community hospitals across our vast rural territory to ensure patients get continuity of care. But it also means that when a neighbor or family member needs more advanced care, they can find it here at HaysMed, or, if the need is great, with The University of Kansas Hospital.
We're most proud, though, of the folks, businesses, and organizations in the region that make HaysMed who we are. The HaysMed Foundation is honored to provide the conduit through which anyone can help provide lifesaving equipment, special projects, and programs that positively impact the health of our region. The HaysMed Foundation serves the needs of HaysMed, and we are proud to be able to operate without any fees on donated funds. That means not only does every dollar stay local, but every penny is used for the people and programs which you designate. We urge you to be part of the successes we will continue to celebrate together. In big and small ways, each of us has the opportunity to be part of this tremendous partnership of health for our neighbors and friends.
Jeff Brull, Executive Director HaysMed Foundation
Eddie Herrman, President/CEO, HaysMed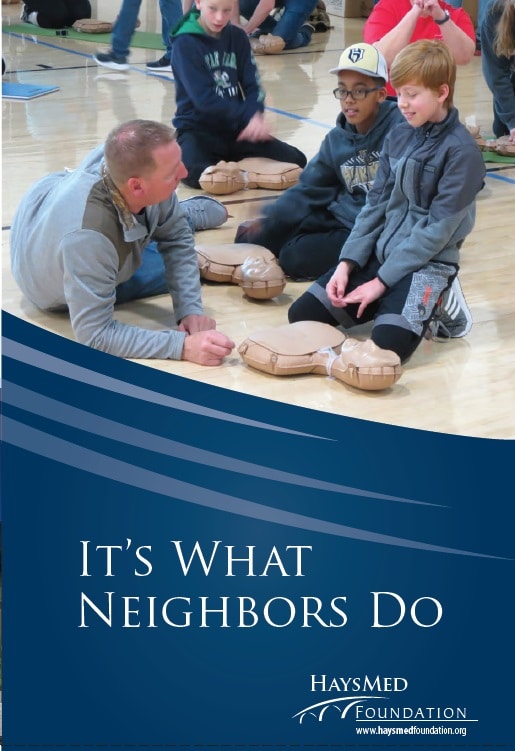 There are many way donors to the HaysMed Foundation improve the health of our region by making free services available to our community. A few examples:
Baseline Concussion Screening for Student Athletes
With growing awareness of the risk of concussions among high school athletes, HaysMed surgeon Dr. Jerod Grove and Trauma Manager Cammie Townley HaysMed Foundation grant funding to provide free concussion screening for local athletes. This year, HaysMed athletic trainers and trauma staff completed nearly 500 baseline screenings in Ellis and Rush Counties. The baseline screenings allow healthcare providers a better benchmark for evaluating athletes in the event of a head injury.
Free Flu Vaccinations
Donors to the HaysMed Foundation fund a Free Drive Thru Flu Vaccination event staffed by volunteers from HaysMed, NCK Technical College and Fort Hays State University. With more than 520 hours of volunteer time and more than $50,000 in vaccine, this one-day event vaccinates more than 3,400 people each year.
Free Friends and Family® CPR and Infant CPR
Generous donors make it possible for HaysMed to continue offering American Heart Association CPR classes annually. Designed for anyone interested in learning how to save a life, the class teaches lay-rescuer skills in CPR, automated external defibrillators (AED) use, and relief of choking in adults, children and infants. Gifts to the Foundation also provide Infant CPR kits to all first time parents.
Kids Quest
In the 7th year of Kids Quest, a record high of 375 kids participated in the free summer program offered by the Center for Health Improvement. Kids Quest encourages kids to stay active in the summer by biking, swimming, running, walking and other exercise. Donations from the HaysMed Foundation and area businesses help this program continue to grow.
HaysMed continues to invest in new technology and equipment that improve patient outcomes.
Robotic Surgery Equipment
HaysMed made a significant upgrade to their robotic surgery platform which was partially funded by the Dane G. Hansen Foundation and by gifts to the HaysMed Foundation. The new da Vinci Xi Surgical System provides further advances in the technology used in minimally invasive surgery. Since the robotic surgery program's inception in 2014 more than 2,000 robotic surgeries have been performed at HaysMed. This means a shorter hospital stay, less pain, lower incidence of complications, and a shorter recovery for thousands of western Kansans.
New CT Scanner
Donors made it possible to purchase a new Computized Tomography (CT) scanner which is integral to planning radiation therapies for patients at the Dreiling/Schmidt Cancer Institute. The new scanner is more comfortable for patients, allows
higher resolution, more accurate images with less contrast, and space for optimal positioning.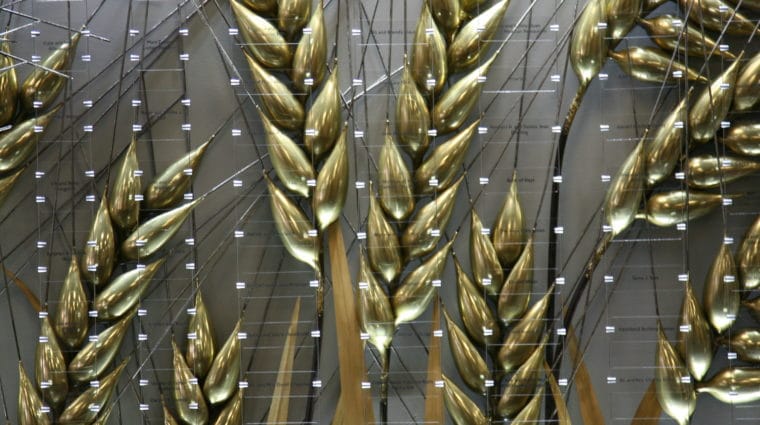 An Endowment at the HaysMed Foundation is a permanent fund that provides a legacy for the donor, supports their values and provides for healthcare for future generations. The principal (gifts to the fund) is never touched, insuring that the donor's gift is a permanent source of funding.
Named Endowed Funds at the HaysMed Foundation can be established with a gift of $25,000 or more which can be paid over a series of years. Donors can also make a gift of any size to a current Foundation endowed fund. Every gift provides more income to help support a department or program at  HaysMed.
HaysMed is proud to provide health care to our community 24 hours a day, 7 days a week, 365 ays a year. In addition to enhancing the health and well-being of friends and family, HaysMed also contributes significantly to the economic health of the region. A strong health care system represents an important part of the region's vitality and sustainability.
1,532 Associates
50 Physicians
35 Mid-Level Providers
454 Nurses
125 Active Volunteers
134,887 Clinic Visits
169,511 Outpatient Visits
5,706 Admissions
11,818 ER Visits
717 OB Deliveries
1,888 Cancer Patients
2,528 Cardiology Patients
$1,216,708 Charity Care
HaysMed Foundation Board of Directors
Chris Wente, President
Alaina Cunningham, Vice President
Mark McCullick, Treasurer
Julie Rider, Secretary
Chris Brungardt
Nancy Curtis
Michele Flax
Tyler "T.J." Gottschalk
Wayne Kieffer
Thomas McDonald, MD
Kay Patterson
Patrick Scott
Brennan Uehling, DC
Dave Van Doren
Eric Wagner
Edward Herrman, HaysMed President and CEO
HaysMed Foundation Staff
Jeff Brull, Executive Director
Jayne Inlow, Development Officer
Jana Fross, Operations and Data Coordinator
Janessa Schuetz, Administrative Assistant