The HealthCare Champion program recognizes the CARE in healthcare. Each month, patients and their families send heartwarming stories about special ways their lives were impacted by a member of the HaysMed HealthCare team.
Recent recipients include:
Dr. Anthony Accurso
Debbie Cook
Emily Gottschalk
Brooke Lawyer
Candance Norris
Doris Rack
Joyce Rupp
Glenda Schuetz
Melanie Vigil
MacKenzie Waugh
Kellie Werner
Dionne Werth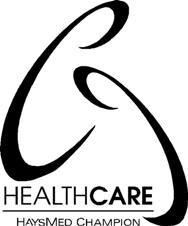 Recent Stories
"My wife, Linda F. Johnson, and I were well into a 4,000 mile road trip when she became very ill. Fortunately, we were in Hays and our motel directed us to the Hays Medical Center. We arrived in your emergency room about 8:00am on June 27 and Linda was immediately greeted by a doctor and two nurses who could not have been more solicitous and caring. (We're embarrassed we don't recall their names.)
For the next four hours she was treated kindly and professionally and I was kept informed of her treatment on a regular basis. Evidently she had contracted food poisoning in Tulsa and you gave her intravenous liquids with pain killers and medications. She immediately began to feel better but was so exhausted that we spent an extra night in Hays. The following day we left but your doctor had given her plenty of medications for our trip and one of your nurses called to be certain Linda was doing well. She could not have received better care anywhere and we feel so fortunate to have found your wonderful facility and staff.
Enclosed is a contribution as a thank you for your outstanding service. We would appreciate your passing along our heartfelt thanks to those three wonderful professionals and to let them know we have expressed our gratitude in a material way. Thank you so much!"
"Once again, this past year our family has been treated at HaysMed. There is no place anywhere that gives better treatment and loving care than your great facility. It is a blessing to the people of Northwest Kansas!"