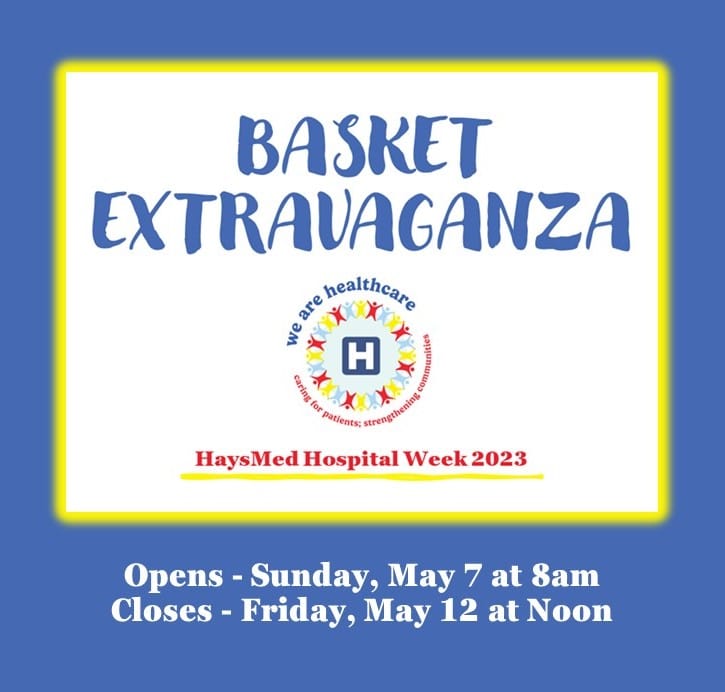 Huge thanks to all our generous donors who put so much creativity and care into making baskets available. You continue to make this a special and fun event each and every year during Hospital Week.
---
Thanks, also, to all who participated and encouraged others to participate as well. This is a truly unique and fun way for associates to help one another by providing for the Associate Care Fund here at HaysMed.
---
Winners Posted Below
Winners will also be notified by email along with directions on whom to contact to claim baskets directly from the donating departments. Thank you, again, for participating!
| Basket Number | Basket Name | Donated By | Value | Winner |
| --- | --- | --- | --- | --- |
| 101 | Ice Ice Baby | IT | $280 | Mckylie Lari |
| 102 | Evening by the Fire | Peri-Op | $615 | Lisa McGrath |
| 103 | Day at the Beach | Inpatient Therapy | $180 | Alicia Smith |
| 104 | Pawsatively Spoiled | Food Service | $200 | Abby Scinto |
| 105 | Date Nights | EVS/Linen Services/Material Management | $627 | Aaron Pfeifer |
| 106 | Kate Spade Purse | Orthopedic Institute | $532 | Kristina Befort |
| 107 | Let's Get Away | Imaging | $875 | Elsie Herzog |
| 108 | Mama Needs a Day | Pediatric Center | $420 | Jennifer Schmidt |
| 109 | Supporting Local Communities | Trauma Emergency Department | $345 | Christina Schmidt |
| 110 | BiggE Meats | Maintenance/BioMed | $300 | Ellen Call |
| 111 | Self Care Spa | Family Medicine | $180 | Jeremy Martinson |
| 112 | Relax & Unwind | 4th Floor | $1,085 | Bryan Noone |
| 113 | WorkSMART | WorkSMART Clinic | $225 | Regina Borthwick |
| 114 | Charcuterie Board | Quest Lab | $350 | Bridget Malir |
| 115 | Big Payday! | Foundation | $155 | Sherri Glenn |
| Bonus | Crisp $100 Bill | Foundation | $100 | Kali Debey |
| Bonus | Crisp $100 Bill | Foundation | $100 | Lauren Pallister |